Gathering eggs
Original title Jajčarija v Javorju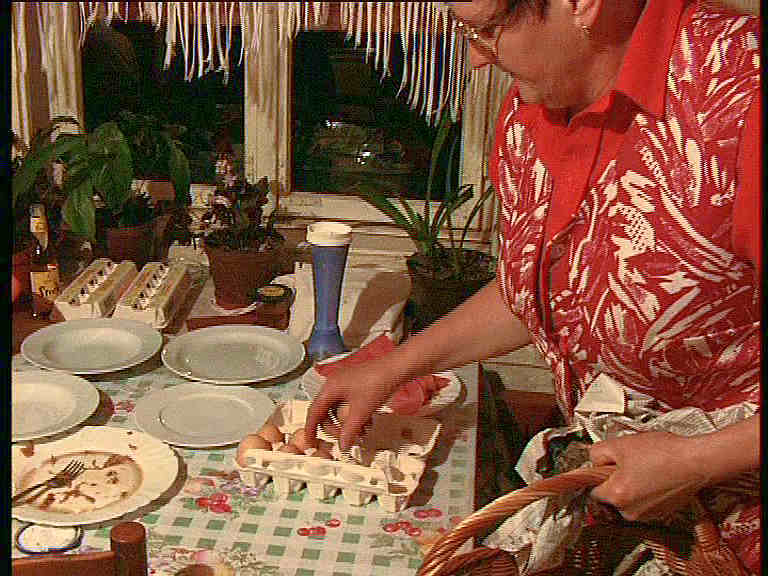 (Ethnographic Footage with commentary) The fragments will be screened from the footage produced in the year 2002, in the frame of bilateral Research project Slovenia / Austria. The heads of the project were mag. Martina Piko Rustia and dr. Naško Križnar. Three films were edited from this footage: Gathering eggs, The performance for the tourists and The interviews with participating persons. The Research, which was the basis for visual ethnography, compared several customs on both sides of Slovenian Austrian border and found many similarities. One of the Research ed customs is so called »jajčarija«, still practised in Javorje (Slovenia) and in Šmarjeta / S.Margareten (Austria). It is a traditional gathering of eggs from house to house. A group of young boys is coming to the house at night, enters and find a dinner served, while the inhabitants are sleeping. After consuming the supper they take the eggs which were left in the kitchen for them. To show their gratitude the boys leave some wooden crosses in the kitchen, made by them especially for this occasion. Video documentation is presenting the visits in the houses and final evening two weeks after the event, organized by the boys for all who donated eggs. This is a tradition which is turning to be a perfomrance for the tourists as well.
Author/s
Martina Piko Rustia & Naško Križnar
English – Martina Piko Rustia, mag.
Slovenski narodopisni inštitut Urban Jarnik, znanstvena vodja
Naško Križnar
Vodja Avdiovizualnega laboratorija Inštituta za slovensko narodopisje, Znanstvenoraziskovalnega centra SAZU.
Research Martina Piko Rustia
Photography Naško Križnar, Miha Peče
Sound Naško Križnar, Miha Peče
Editing Miha Peče, Naško Križnar